The town of Aguas Calientes
 Machu Picchu pueblo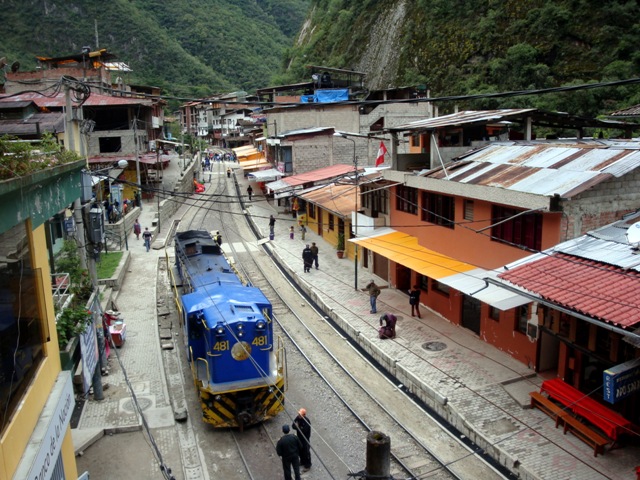 Aguas Calientes is a very small town on the Urubamba River in Peru. Aguas Calientes is located in the district of Machu Picchu, province of Urubamba, department of Cusco. It is located at the western spring of the Vilcanota Mountains, bounded by the Apurimac and Urubamba rivers. It's Altitude is: 7,920 feet above sea level, and it's average temperature is 55ºF/13ºC. It's rainy season is from November to March.
Just about the only reason that tourists travel to Aguas Calientes is that it is a place where the tourist catches a bus to be transported to the ruins of Machu Picchu, which is 8km distant. As such, quite an industry has developed there which brings income to the local people in the area.
Aguas Calientes is also known for its natural hot baths, which give the town its name ("hot waters" in Spanish).
Another interesting bit of trivia is that the main street is actually a railway line rather than a road.
Trains, as well as helicopters always leave their passengers at this small village before they are taken by busses to Machu Picchu.
The village is located about 2 km from the Puerto Ruinas station and it is the place chosen by most travelers to spend the night. This small town has a few hotels, hostels and restaurants as well as discos with different prices.
About 800 m east of Aguas Calientes, are its famous thermal waters, which give their name to this town. They are sulfur waters at different temperatures, springing up from the rocky soil.
Pools have been constructed to serve as thermal baths. The average temperature of these waters is between 38º to 46º Celsius. Also, there are cloakrooms, restrooms and a small snack bar. The pools are open from 5 a.m. to 8 p.m.
Presently, the Pueblo Hotel at Aguas Calientes is the most luxurious.
Currently the government of Aguas Calientes prefers to call the town Machu Picchu.
PLACES TO VISIT IN AGUAS CALIENTES (MACHU PICCHU TOWN)
Mandor Gardens:
Mandor gardens a nice opportunity to experience the flora and fauna in Machu Picchu , are within an hour of Aguas Calientes, following the railroad in the direction of Santa Teresa, accompanied by the Vilcanota,find our way as coffee plantations, fruit, papaya, bananas, (avocado) and herbal medicines, find our way as coffee plantations, fruit, papaya, bananas, (avocado) and herbal medicines, soon to go slowly in sub-tropical nature of the jungle. Lost in the changing vegetation and wildlife, hanging ferns begin to appear, variety of orchids, bromeliads holding onto trees and rocks, from stretch to stretch adorned with magnificent waterfalls, is home of the Cock of the Rock, the national bird who expect to find, hummingbirds, etc. The walk through the rain forest is beautiful.
You can visit all the time (tricks and evening) the cost is for foreign S/10.00
and for nationals S/5.00 .
Peru Tour Operator: Classical Inca Trail, Short Inca Trail, Salkantay trek, Machu Picchu tours Cuzco.Back to top
The hill Putucusi – Mirador:
Located 15 minutes away, nestled in the middle of Machu Picchu and Huayna Picchu peak is Cerro Putucusi surrounded by lush vegetation, ascends 45min . on the road we find various forms of road, including: wooden stairs on slopes of 80 and 85 degrees embedded in the rocks, small bridges in the middle of the vegetation, but most striking is the staircase almost 5 floors height. When you reach the top you obsevar the people and part of the citadel of Machu Picchu, stay rewarded with beautiful views and tranquility of nature.
Peru Tour Operator: Classical Inca Trail, Short Inca Trail, Salkantay trek, Machu Picchu tours Cuzco.Back to top
Baths of Machu Picchu:
10 minutes from the hotel, sulphurous waters are out of the ground
around 40 degrees.
hours 5:00 am to 8.00 pm
Rates
Foreign …………………….S/10.00
National …………………….S/3.00
Peru Tour Operator: Classical Inca Trail, Short Inca Trail, Salkantay trek, Machu Picchu tours Cuzco.Back to top
AGUAS CALIENTES INFORMATION
When we talk about one of the seven wonders of the world, Machu Picchu, we have to talk about its support town, Aguas Calientes. Because there is a terminal train station for everyone who wants to know about the Incas citadel. Remember that train is the main transportation to get to Machu Picchu. Even, the adventures who dare to do the famous Inca trail will finish the trekking in Aguas Calientes. In consequence, the town is a must for those who want to visit Machu Picchu. Therefore, with the experts of Machu Travel Peru, we want to make your vacations much easier through the Inca citadel and its local town of Aguas Calientes. We invite you to learn more about this important town in the following lines.
Aguas Calientes: Everything you need to know about Machu Picchu Town
AGUAS CALIENTES OR MACHU PICCHU TOWN
Aguas Calientes or Machu Picchu town is a little town located in the lower zone of the mountain, in La Convencion district, Urubamba province, in Cusco, south of Peru. It has hot springs, where travelers can soak while waiting for their turns to visit Machu Picchu. We know that this is one of the most Machu Picchu facts asked, and the confusion usually occurs more than it should, but both names represent the same town. Aguas Calientes (Hot Springs in English) is a name given by the locals, based on hot springs located in the north of the town, next to the banks of the Vilcanota River, 800 meters from the main square, where many tourists and visitors, who while waiting for their turns to visit Machu Picchu, they take advantage of their time and take a dip in its waters. On the other hand, Machu Picchu Town is a name given by the municipality in recent years to avoid tourist confusion and to take the name of the Incas wonder, for future promotions of the town.
LOCATION
Aguas Calientes is the closest town from Machu Picchu citadel. This is a support town where many restaurants, hotels, handicraft markets, even a train station are located, as a previous step for everyone who will get to Machu Picchu citadel. This town lasts around the jungle eyebrow are of the Cusco region, in La Convención district, northwest of Cusco, and northeast of Machu Picchu.
From Machu Picchu Citadel / Distance 9 Kilometers north
From Ollantaytambo (Sacred Valley) / Distance 31 kilometers northwest
From Cusco city / Distance 74 kilometers northwest
Believed or not, Aguas Calientes has an altitude of 2040 meters above sea level (6693 feet). So, it is lower than Machu Picchu (7973 feet) and Cusco (11152 feet)
MAP
BRIEF HISTORY
Another surprising piece of information is the town was created before Machu Picchu's discovery. It all began when ENAFER (Peruvian State Railway Company) decided to build a railway to connect the town of Santa Ana (A commercial point located very close to Quillabamba, maybe the biggest Cusquenean Jungle city) to the capital, Cusco city. Santa Ana is situated 208 kilometers (683 feet) northwest of Cusco, in a jungle area. That's why the progress was slow when the railway began to be built in 1901, the workers had to open trails, cut weeds, and clear the road for months.
Until, very close to Machu Picchu (at that time its existence was unknown), the workers decided to form a camp to rest. They were in this situation for a long time until they received the order to install a small railway station there. In this form, the train station was the first building installed in Aguas Calientes. Of course, with time, the train station was attracting commerce, food, and the transit of people to the zone. Until 1911 when the famous explorer Hiram Bingham made known Machu Picchu to the world (The Peruvian agriculture Agustin Lizarraga was the real discoverer of Machu Picchu 9 years before)
So, in 1911, the zone was invaded by archaeologists, historians, studies, and researchers fascinated by Machu Picchu. Therefore, the town was always considered only as a provisional point, before getting to the recently discovered wonder. Even, with the terrorism age from the 70s to 80s, the population density of the town was under dramatically. Just in the 90s, with terrorism dead, with the growth of Peruvian economic and tourist flow, the town began to fill with commerce, shops, restaurants, hotels, among other until these days.
For this reason, according to urban architects and civil engineers who worked on a Machu Picchu map at that time, Aguas Calientes always was a provisional point that was exceeded by population and infrastructure, not advising to spend more than one night there for tourists and general visitors. Even, these days, it is a very disorderly town.
HOW TO GET TO AGUAS CALIENTES
As Aguas Calientes is located close to Machu Picchu Citadel, the ways to get to the Inca's citadel are similar to get it. In this sense, we have three different options, from the most popular option to the recent way.
BY TRAIN
Aguas Calientes is famous for its train station, so, it is not surprising when the majority of visitants arrive there by train, forgive the redundancy. Today, two train private companies offer tourist services of transportation, one of them is Peru Rail and the other one is called Inca Rail. Following, you will have a table with the stations where the trains depart to Aguas Calientes and the duration of the trip.
Departure & Travel time to Aguas Calientes
Wanchaq Train Station in Cusco city to Aguas Calientes 4 hours approx
San Pedro Train Station in Cusco city to Aguas Calientes 4 hours approx
Poroy Train Train Station in Surrounding Cusco to Aguas Calientes 3 hours approx
Ollantaytambo Train Station in Sacred Valley to Aguas Calientes 2 hours approx
Regarding Wanchaq and San Pedro train stations, these are located in the same Cusco city. Whereby, a taxi service will be enough to go there.
In the case of Poroy, this train station is located surrounding Cusco and you will have to take a taxi or private transportation to get there (the trip lasts 1 hour)
In the case of Ollantaytambo train station, you will have to take private transportation to get there (02 hours of the trip until Sacred Valley)
Happily, both companies have varying schedules for the train to Machu Picchu services, departing from these points.
BY WALKING
If you are some of these adventurers who want to experience how were got to Machu Picchu in ancient times, the Inca Trail is for you, and it is the most common walking way to get, first to Machu Picchu citadel and after (taking a down bus) until Aguas Calientes. Also, there are other trekking routes like the Salkantay trek, Choquequirao, and Lares trek. Of course, realize that all these trekking routes, including Inca Trail, have a part of their routes in buses or trains.
But, What is meant? In short, no route is done entirely on foot. All of them have a part of their journey by bus or train from Cusco. Until getting to some point, where the trekking will begin, really.
Trekking Point where trek begins Trek time to Aguas Calientes
Inca Trail Trek
Point where trek begins in 82 Km (Until there, in train)
Trek time to Aguas Calientes: 4 days
Salkantay Trek
Point where trek begins in Soraypampa Camp (Until there, in a bus)
Trek time to Aguas Calientes: 4 days
Choquequirao
Point where trek begins in Cachora Camp (Until there, in a bus) 7 days
Lares Trek
Point where trek begins in Lares Town (Until there, in a bus)
Trek time to Aguas Calientes: 3 days until Ollantaytambo (From there, taking a train)
BY CAR
This is an alternative option to get to Aguas Calientes and to Machu Picchu, too. It does not mean that the route, from Cusco to Aguas Calientes, will be developed by car completely, quite the opposite, you will travel by car in the first part until the Hydroelectric zone. Departing there, the following part will be by train or walking. Of course, taking this option will depend on the season or Machu Picchu Tours types that you were chosen. In the rainy season (November to April) the road is usually muddy, and it isn't recommendable to travel by it. On the other hand, the dry season (May to October) is the best time to take it.
FROM AGUAS CALIENTES TO MACHU PICCHU
9 kilometers is the distance from Machu Picchu to Aguas Calientes Town. As we tell you before, all passengers who want to visit the Incas marvel have to pass by Aguas Calientes first, obligatory. Happily, the town is well-connected with the Citadel and today there are two ways to get to Machu Picchu from Aguas Calientes.
– CONSETTUR Buses: The population of Aguas Calientes (at least people who were born there), through a cooperative, are shareholders of a municipal transport company called CONSETTUR. This company of buses is the only one authorized to offer tourist transportation services from Aguas Calientes town to Machu Picchu citadel and returns. The buses are modern, with air condition systems and padded seats. The trip lasts 40 minutes, departs every 5 minutes, and you can take them a few meters from the train station. The buses will drop you up at the same entrance of the citadel, and from this point, you will take anyone to return.
– Walk (A little trek to Machu Picchu): If you consider that Machu Picchu is a great goal to reach with effort, so, this option is for you. There is a climbing path, in a zigzag, that connects Aguas Calientes Town with Machu Picchu town. If you want to take it, you have to walk, following down the railway and passing the first bridge that crosses the Vilcanota River, from this point you will begin the path. Fortunately, this one is well signed, so you will don't have any problem following the route and getting to Machu Picchu citadel. The trek lasts 01-hour climbing and another one to go down. Take note that taking this option in the rainy season (from November to April) is not recommendable, because usually, the path is muddy, and you may have slipped.