CLASSIC INCA TRAIL 4DAYS TREK
Inca Trail 4 days 3 Nigths
This is the most popular route trekked by hundreds of visitors each day. This beautiful trail starts at kilometre 82. (so called because it is 82 km along the railroad from Cusco) and takes in many of the Inca ruins including Runcuracay, Sayacmarca.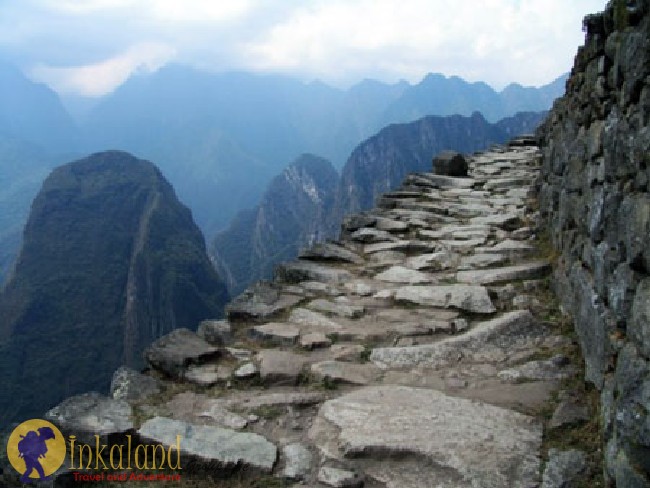 The classic inca trail to Machu Picchu 4days:
Meet and follow the traces of the Incas that headed to the Machu Picchu city. This is a great alternative for those who are interested in hiking through the complete Inca trail. Stages at the trail are from 7 to 8 hours hikes through an Inca trail full of impressive history. Arriving to the last mountain we'll be able to see the Machu Picchu city with enough time to visit the most important archaeological site of the Incas after which we'll return back to Cusco city on train.
Begin from: Cusco / Km 82
End in: Machu Picchu / Cusco
Duration: 04 Days/ 03 Nights
Physical Rating: Moderate/Challenging.
Accommodation: Camping service & Mattresses.
Peru Tour Operator: Classical Inca Trail, Short Inca Trail, Salkantay trek, Machu Picchu tours Cuzco. Back to top
IMPORTANT:Concern about overuse leading to erosion has led the Peruvian government to place a limit on the number of people who may hike this trail per season, and to sharply limit the companies that can provide guides. As a result, advance booking is mandatory.
A maximum of 500 people per day, including guides and porters, are permitted to begin the Trail every day. As a result, the high season books out very quickly.
NOTE: that the Trail is closed every February for cleaning.
Peru Tour Operator: Classical Inca Trail, Short Inca Trail, Salkantay trek, Machu Picchu tours Cuzco. Back to top
Itinerary: The Classical inca trail 4 Days.
Classical Inca trail Day 1: CUSCO – PISCACUCHO – WAYLLABAMBA.
Level: Leisurely/Moderate
Max Elevation:3500 m
Hiking Distance: 11 Km
Approximate walking time: 5 hrs
You will be picked up from your hotel and driven on a scenic two-hour drive through the Sacred Valley towards Ollantaytambo, where you can enjoy an optional breakfast. Once in Ollantaytambo, you will pick up equipment, food and porters for your adventure. We recommend that you buy coca leaves for altitude sickness relieving tea and wooden walking sticks to help you climb the trail. Trekking poles with metal tips are not permitted as they can ruin the trail. Afterwards, you will continue on to Piskacucho (2700 meters above sea level) by bus.
Once you cross the Piskacucho bridge over the Urubamba river, you will commence that day's 12 km (7.5 mile) hike. You will walk on flat terrain along the shore of the river, until you take a break at the small community of Miskay (2800 m.a.s.l.). Continuing on a steeper path towards a high plateau, your efforts will be rewarded by the spectacular view of the Inca Ruins of Patallacta (2750 m.a.s.l.). At the junction of three valleys, this utilitarian station of farming terraces will be one of many Incan ruins you will encounter on the trail. After you have heard about this collective agricultural compound, you will continue to hike for two hours where you will be met by lunch your cook has prepared. Continuing the trek for another two hours, you will reach the first campsite of Wayllabamba (3000 m.a.s.l). The highlights of this path include the breathtaking view of the Vilcanota ridge on the other side of the Urumbamba River and the snow-covered Mount Veronica.
Camping night in Wayllabamba.
Peru Tour Operator: Classical Inca Trail, Short Inca Trail, Salkantay trek, Machu Picchu tours Cuzco. Back to top
Classical Inca trail Day 2: WAYLLABAMA – LLULLUCHAPAMPA – PACAYMAYU.
Level: Challenging/Tough
Max Elevation:4200 m
Hiking Distance: 12 Km
Approximate walking time:7 hrs
The second day is the most rigorous part of the hike. You will wake up early for breakfast and then set out to climb up 9 km (5.6 miles) of a narrow valley, surrounded by plush vegetation and crisp streams. As this is by far the most challenging part of the trails, it is encouraged that you take your time by taking breaks whenever you desire before reaching the village of Llulluchapampa.
Leaving the village of Llulluchapampa, you will climb the highest and most famous mountain pass, the Abra Warmihuaña or "Dead Woman's Pass." This hike will take about two hours, but you are again encouraged to take your time, in order to enjoy the scenery and avoid over exerting yourself. Once you have reached the Dead Woman's Pass (4200 m.a.s.l.), you will descend a winding 2.5 km (1.6 miles) path of steps that crosses a natural valley, the habitat of a plethora of natural wildlife. Keep your eyes open, as here a variety of birds, like sparrows and humming birds, as well as the Andean Bear can be seen. Known as the Spectacled Bear for its golden circular fur around its eyes, this solitary creature calls the Andean cloud forest home. You will have lunch along the way and continue to the campsite at the Pacaymayo Valley (3600 m.a.s.l.). Here you will have dinner and take a well deserved rest after such a strenuous day.
Camping night in Pacaymayo.
Peru Tour Operator: Classical Inca Trail, Short Inca Trail, Salkantay trek, Machu Picchu tours Cuzco. Back to top
Classical Inca trail Day 3: PACAYMAYU – CHAQUICOCHA – PHUYUPATAMARCA – WIÑAY WAYNA.
Level: Challenging/Tough
Max Elevation:3900 m
Hiking Distance: 16 Km
Approximate walking time: 8 hrs
After breakfast, you will start a 15 km (9.3 miles) trek along an impressive and archeologically rich path. A steep hike will lead you to the Runkurakay Pass (3970 m.a.s.l.). Halfway through the pass, you will encounter the ruins of Runkurakay, an Incan tambo or watch-house. Another steep climb up Incan steps leads to the next pass, which offers insurmountable views to the mountain ranges of Vilcabamba and Pumasillo. On this third day, the path becomes an intricately Incan engineered structure of stones that hugs the steep sides of the cloud forest's mountains and serves as a gallery for the ecosystem's varied flora.
You will continue on to Yanacocha with Sayacmarca (3624 m.a.s.l.) as your destination goal. Aptly dubbed the "Inaccessible Town," the ruins of Sayacmarca are sheltered by daunting protective cliffs. 98 steep Incan stone steps will allow you to get a spectacular view of the ruins and the landscape. Once you descend, you will be able to enter this fortress. Divided into two halves, you will be able to see Sayacmarca's solar observation point and residences.
Leaving this magnificent archaeological wonder, you will trek through the cloud-forest to the last climb that will lead you to the third pass, the Abra de Phuyupatamarca (3700 m.a.s.l.). Afterwards, most of the trail is downhill and leads to the archeological site of Phuyupatamarca. Called the "Town above the Clouds," this ruin surrounded by Incan terraces consists of a sophisticated irrigation and fountain system. As the sun sets, you will head towards the ruins of Wiñaywayna or "Forever Young," which consists of Incan agricultural terraces. Believed to have been a center where water was worshipped, flower enthusiasts will be pleased to see the area's pink orchids in addition to learning about the ruin. Here there is a camping site, a simple restaurant and hot showers. Cold beers and a party in the evening will allow you to say good bye to your cook and porters who will leave early the next morning on the train to go back to Cuzco.
At this point your guide will ask all hikers to make a tip pool, which will then be distributed to the team (guide, cook and porters). A good tip amount ranges $10-$40 per hiker. Remember that these tips are voluntary, so feel free to tip according to the service you have received.
Camping night in Winaywayna, near to Machu Picchu.
Peru Tour Operator: Classical Inca Trail, Short Inca Trail, Salkantay trek, Machu Picchu tours Cuzco. Back to top
Classical Inca trail Day 4: WIÑAY WAYNA – MACHUPICCHU – CUSCO
Level: Leisurely/Moderate
Max Elevation: 2700 m
Hiking Distance: 6 Km
Approximate walking time: 12 hrs
After waking at 4:00 am, you will have breakfast at 4:30 am and be on the trail by 5:00 am in order to reach Inti Punko or the "Sun Gate," the entrance to Machu Picchu by 6:00 am. The hour long trek will take you through a narrow trail of cloud forest. As you reach the Sun Gate, just before sunrise, the fog will lift and Machu Picchu will be lit with sunlight. The view is awe-inspiring and you can only imagine what the Incas must have felt after their grueling journey to this sprawling temple. After taking advantage of this pristine photo opportunity, you will descend to the citadel and receive a full explanation about the temple from your guide. The tour lasts two hours and afterwards you several options of how you can spend your time at this daunting world wonder.
Your guide will take you around the citadel, a beacon of the civilization's ability to build a fortress in one of the world's most formidable locations. The human element of Machu Picchu is evident in its intricate building structure, especially when contrasted with the wild, verdant mountains and steep gorges that fully surround the citadel. These magnificent Incan ruins have contoured walls that fit to the curves of the natural rock. They are an amazing architectural jigsaw puzzle of individual blocks that – even though built without supportive mortar – have withstood earthquakes, fires and duress of centuries of neglect. It is even more incredible, when you realize that these stone blocks were raised above the Inca's valleys, irrigation systems and terraced fields in order to build this wonder. The Temple of the Sun, the Intihuatana and the Principal Bath are only a few of the impressive sights that your tour will cover.
After your tour, you have the option explore more of the site and capture any forgotten photos. Some take advantage of Machu Picchu's spiritual setting to meditate and relax. However, if the trek through the Inca Trail got you yearning for more and you do not suffer from vertigo, you can take a 90 minute climb up the lush peak of Wayna Picchu. Lasting about four hours, the excursion to Wayna Picchu's temple of the moon is not for the faint of heart and must be done exercising extreme caution. However, the opportunity to tour another temple and see Machu Picchu from another angle, often beckons the more adventurous of visitor.
Then enjoy the famous Aguas Calientes village during the afternoon.
From Aguas Calientes to Ollantaytambo by train in the late afternoon.
Finally from Ollantaytambo to your Cusco City hotel on a private transportation.
Peru Tour Operator: Classical Inca Trail, Short Inca Trail, Salkantay trek, Machu Picchu tours Cuzco. Back to top
MAP INCA TRAIL TO MACHU PICCHU $ DAYS TREK
CLASSIC INCA TRAIL INCLUDED:
• Pick up at your hotel.
• Private transportation to Km. 82 (Piscacucho).
• Entrance ticket to Inca trail and Machu Picchu.
• Professional guide .
• Meals according to your itinerary (vegetarian optional)
• 3B, 3L, 3S, 3D.
• Tents quadruple size, double occupation, dinning tent, cooking tent, bathroom tent, mattress, chairs, table, table menagerie.
• Cook and assistant cook.
• Porters only to carry camping equipment and food supplies.
• First aid kit.
• Oxygen.
• Return train ticket to Cusco.
Peru Tour Operator: Classical Inca Trail, Short Inca Trail, Salkantay trek, Machu Picchu tours Cuzco. Back to top
CLASSIC INCA TRAIL NOT INCLUDED:
• Sleeping bag.
• First breakfast.
• Last lunch in Machu Picchu.
• Extra porter to carry personal items, available for US$90.00 porter can carry only 18 lbs. According to local law.
• Tips for the guide, porters or cook.
• Bus ticket down from Machu Picchu to Aguas Calientes.
Peru Tour Operator: Classical Inca Trail, Short Inca Trail, Salkantay trek, Machu Picchu tours Cuzco. Back to top
YOU MUST BRING:
• Small backpack or daypack well fitted trekking shoes or boots.
• Water bottle, flashlight, hat, sun glasses, bug spray, sun screen.
• Warm Light clothing for trekking.
• Sleeping bag.
• Original passport.
• Chocolates, cookies, dry fruits, snack
Peru Tour Operator: Classical Inca Trail, Short Inca Trail, Salkantay trek, Machu Picchu tours Cuzco. Back to top
AVAILABILITY OF THE 4 DAYS INCA TRAIL HIKE
Usually, the capacity of spaces available on the 4 days Inca trail hike to Machu Picchu per day is 200. Among this number of limited capacity, tourists and guides are considered.
Before making your reservation with any authorized travel agency, you should always ask for the availability of spaces on the date you want to make it. Since it gets sold out quickly due to high demand.
You can book in any of the months that go from March to January. But, the entire month of February remains closed due to the maintenance that is given to the entire Inca Trail Network. This organized by the competent authorities.
 The inca Trail Availability and Permits: 2022 – 2023
*This information is provided courtesy of the Regional Directorate of Culture of Cusco.