Fiesta de la Mamacha Carmen
The annual Virgen del Carmen Festival in Paucartambo (Fiesta de la Virgen del Carmen – Fiesta de la Mamacha Carmen)  is a colorful mix of Andean pre-Columbian ceremonies and Catholic religion in which masked, costumed dancers relive ancient gods and rites.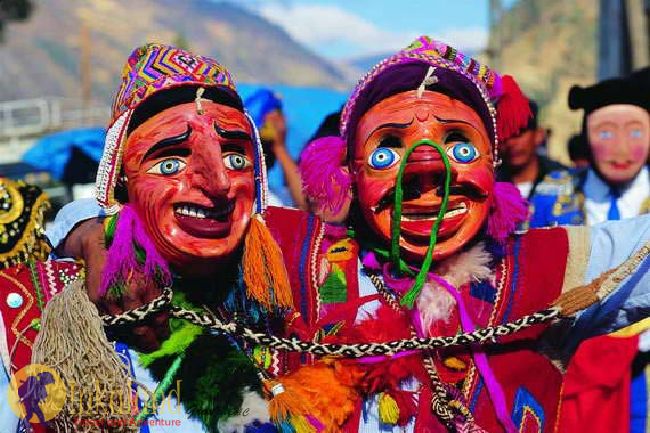 One of the most amazing cultural events I've experienced in all my travels is the Virgen del Carmin Festival held in the remote village of Paucartambo high in the Andes of Peru about four hours drive over a winding mountain road from Cusco.
When the Spanish conquered the Inca Empire, they imposed their customs and religion. The reason there are so many festivities dedicated to the Virgin is because, in secret, she represented the cult towards the Pachamama or mother earth to the natives.
The Virgen del Carmen is the patron saint of Paucartambo, near Cuzco, where streets of white colonial buildings topped with red roofs are the setting for the dancing and merriment held on July 16. Regional dance groups, each with their own musical accompaniment, perform during the processeion, re-enacting historical events and folktales.
In Paucartambo, at 110 km from Cusco, we celebrate Del Carmen Virgin or Mamacha Carmen festivity. She is the mother of mestizos, that is to say those children born from Spaniards and native mothers. During the celebration, we can appreciate a colorful parade filled with music, choirs that sing in Quechua and groups that represent different Peruvian history dramatizations.
On the main day, the image of the Virgin goes on procession by the town streets blessing the participants and scare away the demons that practice risky pirouettes over the roofs. The war between the faithful and the demons is a show that mixes paganism and faith. The endless fight between the good over the evil where good ones win.
Sunrise at Tres Cruces: About 40km north of Paucartambo is a site called Tres Cruces (3 crosses), which is situated on the very edge of the Andes mountains at an altitude of 3900m. From Tres Cruces, there is a steep drop into the Amazon basin, which means the view is incredible. Tres Cruces is most famous for the sunrise in the months of June and July because special climatic conditions mean that there are optical illusions.
Virgen del Carmen Festival. Held too at various times in several communties in the Andean highlands, the festivities include a procession of the Virgin through the streets while the dancers advance and retreat in the never ending battle between the forces of good and evil.
Come and celebrate the Mamacha Festivity!
We organize an escorted Virgen del Carmen Festival trip to Peru.
 Virgen del Carmen festival and  Sunrise at Tres Cruces
Cusco – Paucartambo
Days: 15th – 16th July – This trip leaves once a year.
The festival of the Virgen del Carmen in Paucartambo Cusco, is a celebration that invites many parishioners and visitors from around the world by leading people and 12 groups of dancers radiating faith, charm, color and joy. Dances that are offered to the Virgin sacrifice of the faithful who perform with love and devotion to "Mamacha Carmen" in return for his blessing and protection.
Magical and real time celebration has a deep religious meaning and social ritual where you can see how the identity and customs of the peoples Andean mestizo clearly observed in the Qollas guerrillas in the highlands and eastern Chunchus remains where both nations dispute the fondness of Mamacha performed on the Carlos III bridge. This festival is held every year in  Paucartambo.
ITINERARY
Day One: 15th July
Early morning Collection from your hotel and departure from Cusco
· Visit to the Chullpas of Ninamarca
· Light snack
1.30pm Arrival at Paucartambo
Lodging in a shared accommodation, and a rest if you wish
3.00pm Visit to the different streets of the town
Visit to the main church, and an appreciation of the traditional entrance, and of the special dances "Cora Apacuy" and "Konoy".
8.00pm The serenade in honour of the Virgin del Carmen begins
We will be able to enjoy (visitors and locals alike) the happiness of this event. It's is possible for members of our group to rest, or others will wish to continue with the festivity until later hours.
Day Two: 16th July
1.30am We will assemble in our lodging to depart for our trip to Tres Cruces to see the see the sunrise, the only place you can see this spectacle in South America . (3739 m)
Accommodation will be in an available place.
Light snack (with hot drink and a sandwich)
7am Return to Paucartambo.
Transfer to the lodging, rest, wash and breakfast (depending on each passenger). Visit to the Temple of the Virgin of Carmen, to the Bridge Carlos III where we can enjoy more than 15 typical dances.
3pm Procession of the Virgin of Carmen
We will accompany the procession and can appreciate the dances and the ability of the dancers.
5.30pm We will gather in our lodging to collect our things and board our bus to return to Cusco.
9.00pm Return to Cusco and return to your hotel.
* The exact program is subject to change, due to weather and other unexpected circumstances.
ITINERARY NOTES
• The times cited in this itinerary are approximate. Walking times depend on the group and the guide can change lunch spots and campsites, depending on the progress of the group. Each guide has their own preferred route and it might not correspond exactly to the route described here.
• This is an adventurous trip. You should be sure to bring an open mind, flexibility and a sense of humor. Most of all you should be prepared to go with the flow. Most of all, you are joining an Andean fiesta – and you should be willing to accept their means and methods of celebration.
• This region is not frequently visited by tourists, therefore tourist infrastructure is limited. This tour incorporates public transport, and use of local facilities. Visitors should be aware that things change, or may not go to plan. This is all part of the adventure!
INCLUDED
• Pre Trek Briefing
• Collection from your hotel in the morning of trek departure.
• Private transport from Cusco- Paucartambo – Tres Cruces – Paucartambo – Cusco
• English/Quechua/Spanish speaking professional guide (you will have an assistant guide for groups over 8 people).
• Shared accommodation
• Meals as described
• Sleeping mat
NOT INCLUDED
• Breakfast on the first morning.
• Sleeping bags If you haven't got a sleeping bag or you don't want the hassle of bringing one all the way to Peru with you, then we have sleeping bags for hire.For this trek you should hire minus 15 or warmer bags.
• Tips
WHAT YOU SHOULD BRING
• A sense of humor, dancing shoes (a willingness to dance) and an open mind.
• A light day pack with a change of clothes for the whole period of the trek – prepare for a vast range of changes in temperature.
• Warm clothes, including jacket, fleeces, gloves, scarf and beanie/touk. Thermal clothing is also recommended, especially for sleeping. ** The visit to Tres Cruces is particularly cold trek, you should make sure you have a lot of very warm clothes.
• Ear plugs!!! Needed for this fiesta
• Torch/ Flashlight and spare batteries
• Camera, films and batteries (batteries consume more quickly under cold conditions)
• Hat or cap to protect you from the sun, rain and cold
• Sun block
• Toilet paper, pack in & pack out
• Snacks: biscuits, energy bars, chocolate, raw fruits, muesli, etc.
• Non-disposable canteen (Nalgene type) and water for the first morning.
• Your own medical kit with any special medications that you might require, paracetamol, second skin for blisters etc.
• Cash – sufficient for your final lunch in Aguas Calientes, tips and souvenirs.
• Original passport & ISIC (International Student Identity Card) if you have one.
optional extras
We can hire the following to you.
–  Sleeping Bag suitable for – 10deg $4.00 per trip day
–  Deluxe Sleeping Bag suitable for -15deg. $5.00 per trip day)
–  Thermarest inflatable mattress – $4 per trip day
–  Inflatable pillow – $2 per trip day
HIRE POLICY:
When calculating costs for hire of walking stick, sleeping bag, calculate using the length of the tour. Even though you won't use the equipment on the final day it will still be 'on the road' and 'occupied.' If you hire equipment and break it – you are responsible for price of replacement /or repair. (please do the right thing!)
TO MAKE A BOOKING
Please visit our Make a Booking page.
You will need to email us to check availability, receive booking forms and then make your deposit. For our payment conditions and booking please refer to our Make a Booking page. * For organisational reasons, we require one week to organise your booking, prior to departure.